Common uric acid (UA) kidney stones present themselves in two distinct morphologies.
URIC ACID TYPE III KIDNEY STONES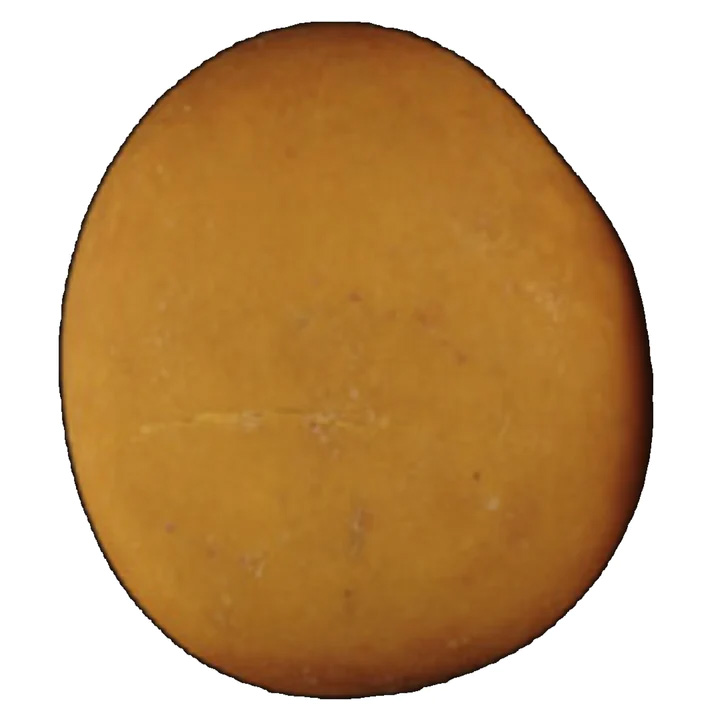 TYPE IIIa STONE
Common Causes:
Low urine pH, stasis, prostate hypertrophy, metabolic syndrome, or ammoniagenesis defect
This type of UA stone is mainly composed of anhydrous (containing no water) uric acid. It has a smooth, typically orange surface. Internally, the structure is organized from radiating concentric layers around a well-defined core. Type IIIa stones account for 1.6% of all stones. They are mainly seen as bladder stones in older men with benign prostate hypertrophy (a benign [not cancer] condition in which an overgrowth of prostate tissue pushes against the urethra and the bladder, blocking the flow of urine. The orange color associated with this type of stone results from a particular affinity between uric acid crystals and a red pigment naturally present in urine (called uricine) [59].
However, due to low content of uricine in urine or because of poor absorption of the pigment at the surface of uric acid crystals (perhaps depending on urine pH), the stone surface of uric acid stones may appear moderately colored and sometimes entirely whitish. At the same time, inner layers always exhibit some degree of pigmentation, ranging from yellow to ochre (deep orange/brown).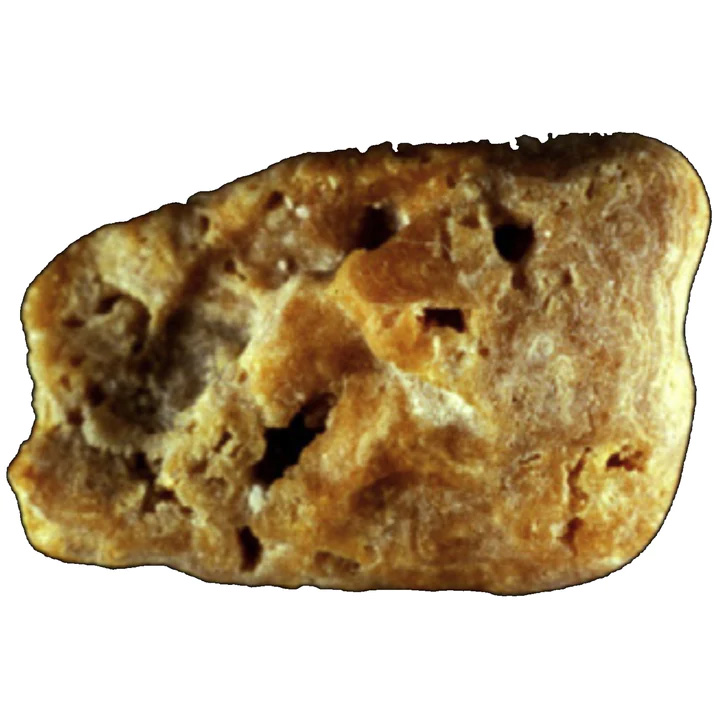 TYPE IIIb STONES
Common Causes:
Insulin resistance, metabolic syndrome, type 2 diabetes, ammoniagenesis defect, low urine pH
Type IIIb kidney stones are made predominately of uric acid dehydrate (UA dihydrate) and exhibit a rough and porous surface with a beige to orange color and a poorly organized orange-red internal structure that is porous. Because UA dihydrate is unstable with time and spontaneously converts to anhydrous UA, Type IIIb kidney stones initially formed as UA dihydrate may be composed mainly of anhydrous UA at the time of analysis. However, they retain the look of IIIb stones.
Type IIIb kidney stones are the most common type of uric acid stone, representing 77% of pure UA stones and 7-8% of all kidney stone types. These stones are strongly pH-dependent and form in acidic urine (pH less than 5.5). Type IIIb stones are often observed in individuals with Gout, metabolic syndrome, or type 2 diabetes who have both hyperuricosuria (excessive presence of uric acid in the urine) and acidic urine [61-63]. In these individuals, the low urinary pH (acidic pH) reflects reduced ammonia excretion resulting from insulin resistance (the common metabolic disorder underlying these conditions [64].
Uric acid stones are also produced in cases of chronic hydro electrolytic diarrhea in patients with inflammatory bowel disease, especially after an ileostomy (a surgical operation in which a piece of the ileum is diverted to an artificial opening in the abdominal wall) which results in a substantial loss of water and bicarbonates and thus in low-volume urine with very low (acidic) pH.
The association between type 2 diabetes and uric acid kidney stones is two way. UA stones are three times more likely in type 2 diabetic stone formers than in non-diabetics. In contrast, the prevalence of type 2 diabetes was 2-3 times higher among uric acid than calcium stone formers. Therefore, the onset of uric acid kidney stones in an adult should prompt a search for latent type 2 diabetes, especially in the case of obesity.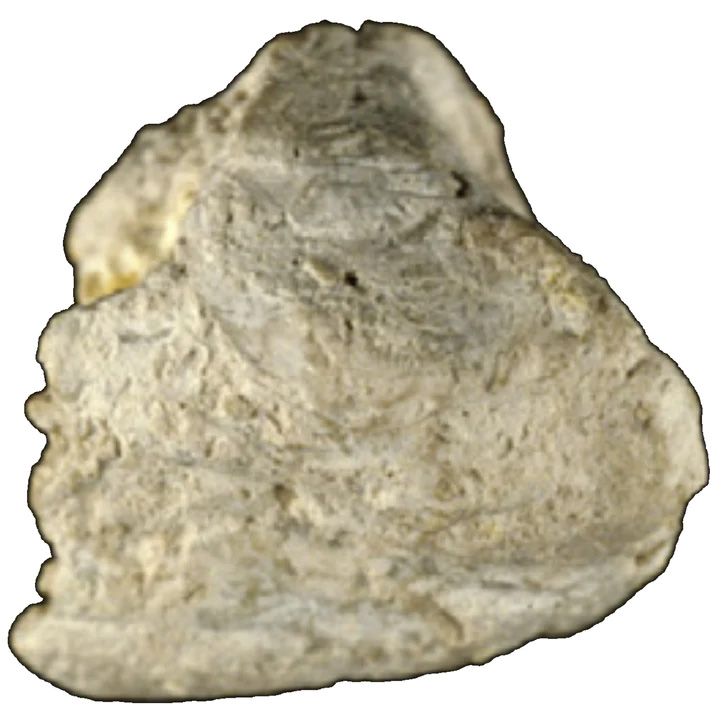 TYPE IIIc STONES
Common Causes:
Hyperuricosuria, neutral or alkaline urine pH, or urinary tract infection by urea-splitting bacteria
Type IIIc stones have a rough and locally porous beige or grayish surface with an unorganized porous internal structure of the same color. These stones are composed of various urate salts, most often ammonium hydrogen curate, which is the least soluble form of urates (meaning that they are difficult to be dissolved in the body or the urine). Crystallization occurs in urines with very high pH (around 8) in the contest of UTI with urease splitting bacteria (such as Proteus, Pseudomonas, Klebsiella, Staphylococcus, and Mycoplasma) which results in the local production of ammonium ions from urea, and are mainly observed in developing countries. In Western countries, they may also result from excessive therapeutic urine alkalization.
TYPE IIId STONES
Common Causes:
Chronic diarrhea, electrolyte/alkali loss, high urate concentration in urine, low phosphate intake, or laxative abuse
Type IIId kidney stones have a rough and porous surface with a dark brown color and an internal structure showing alternatively thick, brown, and thin transparent layers with small porous zones. These stones are predominately (or totally) made of ammonium hydrogen curate. Most commonly, they result from chronic diarrhea of infectious origins in individuals eating an imbalanced diet characterized by high fibers (cereal) and low phosphorus (animal proteins) consumption.
In Western countries, type IIId stones are observed in individuals who have abused laxatives, which induces chronic occult diarrhea and high urinary ammonia excretion. Such a composition of stones is virtually specific to laxative abuse [70]. In developing countries, Type IIId stones are mainly found in children (mostly boys) with endemic bladder stones [71]. Ammonium urate is still observed as the major component of the core of these stones in these countries. However, urinary stones, mainly composed of ammonium urate, have become infrequent [72].
Ammonium urate may be mixed with uric acid and/or calcium oxalate. In most cases, these mixed stones are the mark of changes in risk factors or diseases involved in stone formation.
MIXED URIC ACID & CALCIUM OXALATE KIDNEY STONES
Mixed stones made of uric acid (Type IIIb) and CaOx (Com, type Ia) are not infrequent. They are typically observed in individuals (mostly obese and overeaters), whose cumulate risk factors of both uric acid and calcium oxalate monohydrate formation. This form of mixed CaOx and UA stones is especially severe and recurrent [66].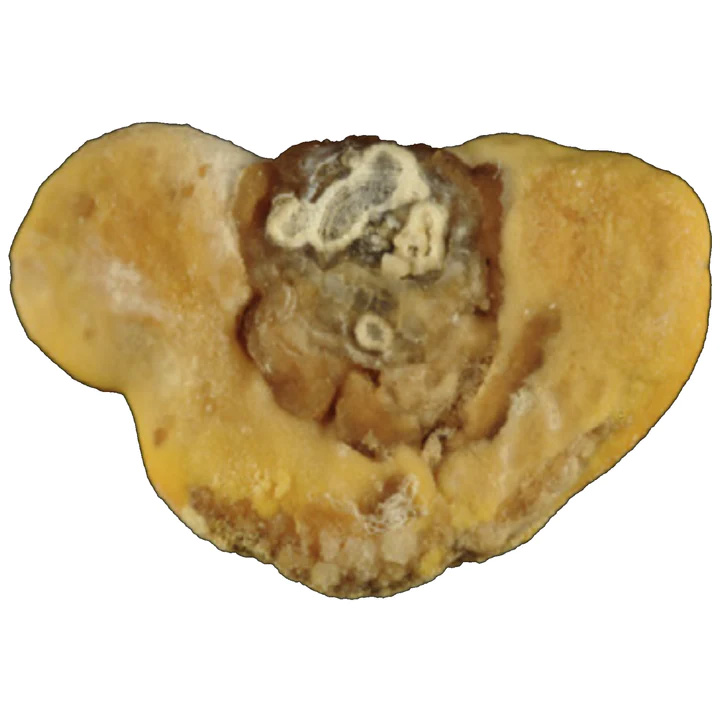 TYPE Ia/IIIb/IVa + Ib/IVa STONE
Common Causes
Intermittent or moderate high oxalate concentration, low diuresis, metabolic synrome, insulin resistance, type 2 diabetes, or nucleation on carbapatite Randall's plaque (transient or past hypercalciuria)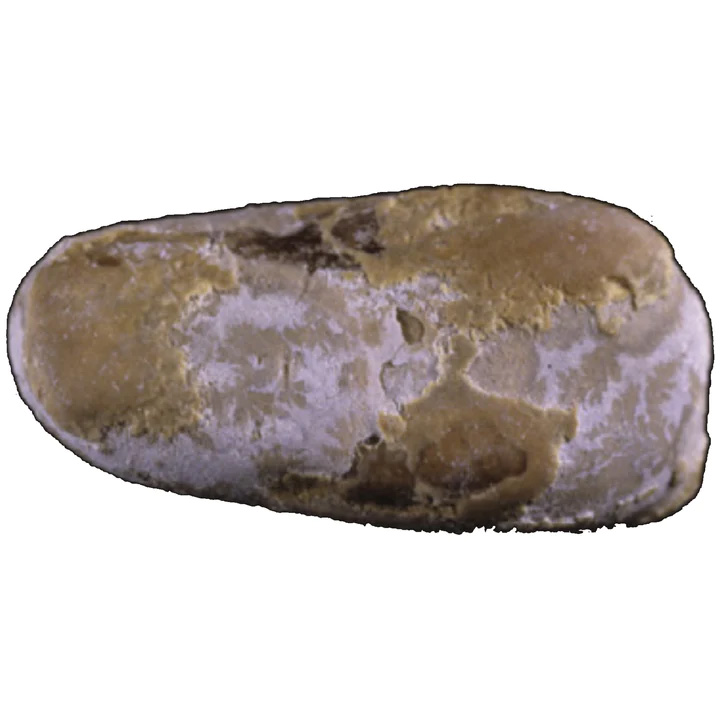 TYPE Ia/IIIb STONE
Common Causes
Moderately high oxalate concentration, low diuresis, low urine pH, metabolic syndrome, or type 2 diabetes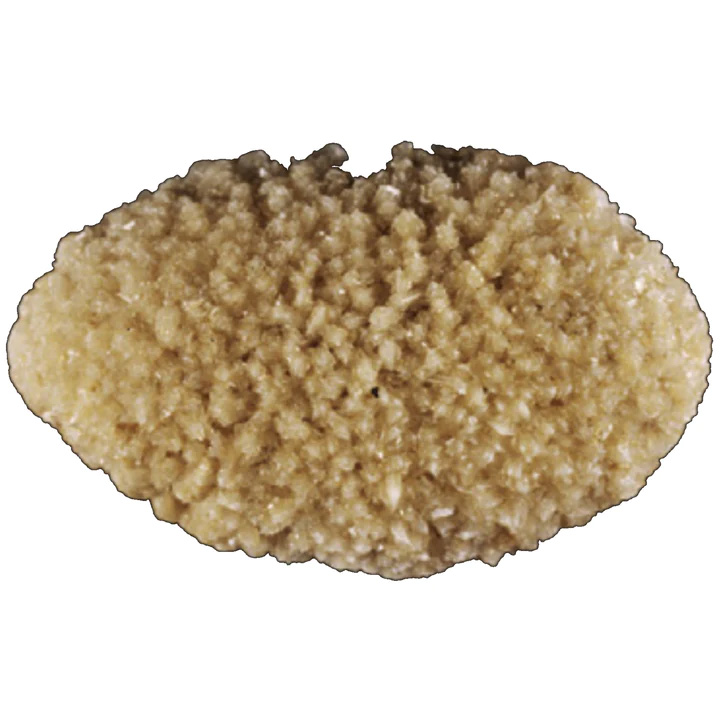 TYPE IIa + IIIb/Ib STONE
Common Causes
Transient hyperuricosuria and/or low urine pH + moderate hyperoxaluria + more recent hypercalciuria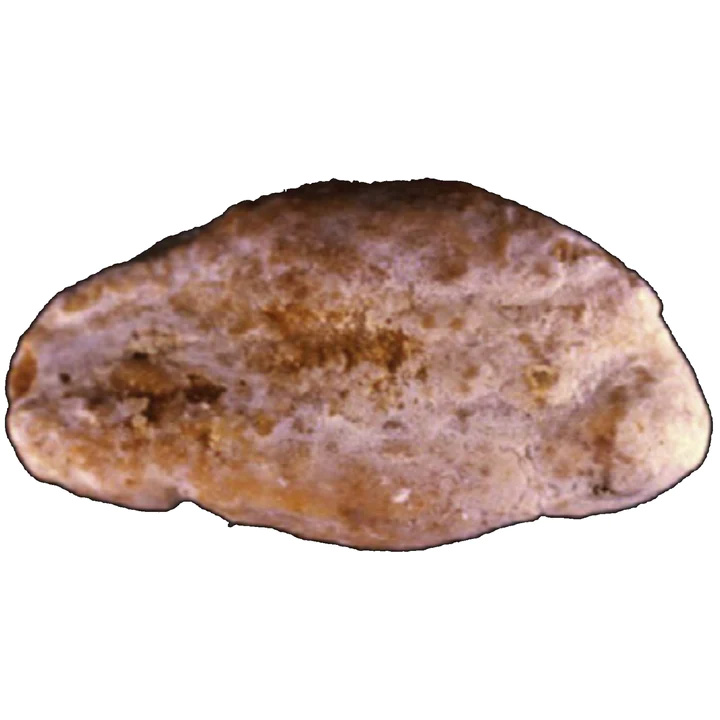 Type IIIa/IIIb +Ia STONE
Common Causes
Metabolic syndrome, type 2 diabetes, or insulin resistance
AMMONIUM URATE KIDNEY STONES
Ammonium urate stones are scarce, and they account for less than 0/4% of all kidney stones. However, they are still frequent in certain parts of the world, such as Africa and Southeast Asia [67]. They exhibit themselves in two different forms.
TYPE Ia/IIIb/IIIa/IIIc STONE
Common Causes
Hyperuricosuria + moderate hyperoxaluria + past urinary tract infections or type 2 diabetes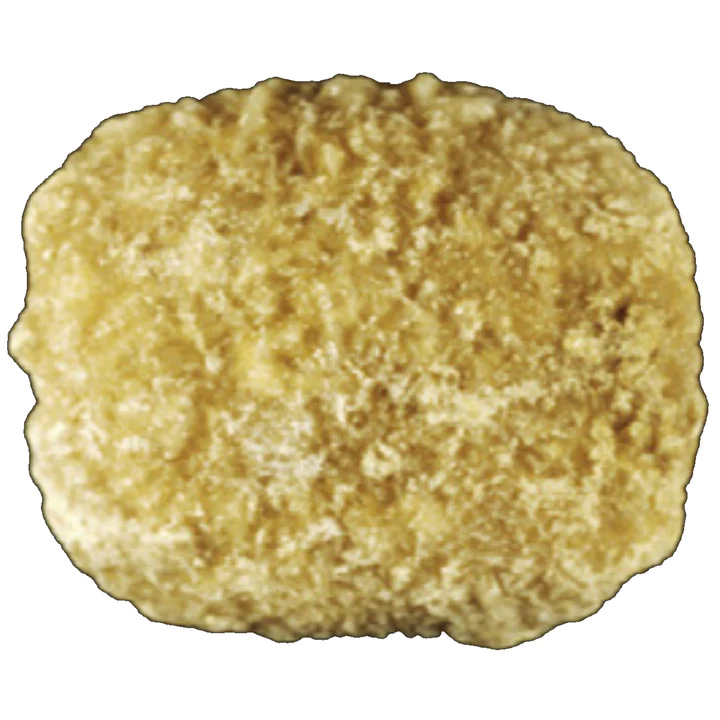 TYPE IIa/IVa1 + IIb + IIId STONE
Common Causes
Transient diarrhea + hyperuricosuria + high oxalate concentration (low diuresis) + recent hypercalciuria of dietary origin
With You EVERY
STEP OF THE WAY
Questions? Comments? Something doesn't make sense?
Connect with your peers inside the Stone Relief Community to get answers.
Enter Community